Pastoral & Ministry Staff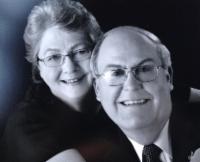 Rev. Chris and Betty Thompson
Senior Pastor,
Born:
Wayne County, North Carolina
Converted:
February 14, 1965, joined Manley Grove PH Church
Married:
June 15, 1974 to Betty Richardson from Salem, VA.
Background:
Third Generation Pentecostal Holiness church member. (Grandparents were charter members of Manley Grove PH Church, Mount Olive, NC)
Education:
High School, Southern Wayne High School, Dudley, North Carolina.
North Carolina State University, Raleigh, NC (1969-1971)
Transfer to Holmes Bible College.
Bachelor of Theology, Holmes Bible College, Greenville, South Carolina – 1974
Bachelor of Arts – Campbell University, Buries Creek, North Carolina – 1977
Church Growth Associate, Church Growth, Inc., Monrovia, CA – 1989
Master of Ministry – Southwestern Christian University, Bethany, Oklahoma – 1998
Ministry:
Joined N.C. Conference of the Pentecostal Holiness Church in 1971, drained 1973
Evangelist – 1971-1974 (while at Holmes)
Instructor, Holmes Bible College – 1972-1974
Pastor, Manley Grove Church – Summer, 1973
Pastor, Oak Ridge Pentecostal Holiness Church, Wade, NC – 1974-1975
Pastor, Peniel Pentecostal Holiness Church, Roseboro, NC -1975 – 1981 (First Full Time Pastorate)
Pastor, Evangelistic Temple Pentecostal Holiness Church, Cary, NC 1981 – 1986 (New Church Plant)
Heritage Bible College, Dunn, NC – 1983-1985 (New Testament Greek)
Director of Evangelism, World Missions and Archives Director, NC Conference of the Pentecostal Holiness Church – 1990 – 2000 (Planted over 100 churches)
Bishop/Superintendent, NC Conference IPHC – 2001 – 2009
National Executive Director of Evangelism USA – 2009 – 2017
Corporate Secretary of IPHC – 2009-2012
Vice Chairman of IPHC – 2012-2017
President of Holmes Bible College – 2017 – Present
Pastor, Holmes Memorial Tabernacle Church – 2017 – Present
Rev. Albert (AL) and Wanda Bucklew
Objective:
It is my desire to lead individuals to Christ. I have served congregations as a bi-vocational Pastor for many years. I considered working in the community while serving as a Pastor a welcome opportunity.
Education:
Bachelor of Science in Christian Ministries (Pastoral Ministries Concentration) – Holmes Bible College, Greenville, SC
Associate of Arts in Christian Ministry – Holmes Bible College, Greenville, SC
Credentials:
Ordination with the General Council of the Assemblies of God, July 7, 1987
Experience:
Senior Pastor, Springfield Assembly of God, Springfield, VA – 1977-1992
Worship Pastor, Faith Fellowship Assembly of God, Alexandria, VA – 1992 – 1993
Youth Pastor, Southside Assembly of God – 1993 – 1995
Senior Pastor, Evangel Assembly of God, Piedmont, SC – 1995 – 2001
Associate Pastor, Crosspoint Assembly of God, Greenville, SC – 2001 – 2011
Associate Pastor, Holmes Memorial Church, Greenville, SC – 2011 – Present